Thermopolis Cowboy Rendezvous Rodeo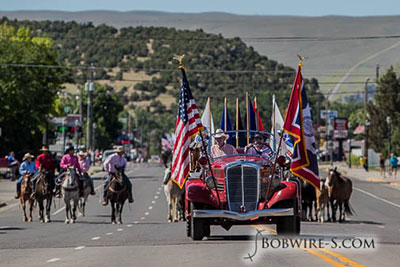 As you know, the Thermopolis Cowboy Rendezvous Rodeo Committee has revitalized our community's PRCA rodeo into a fantastic event combining the top rodeo performers from across the nation with world famous rough stock! In addition, the timed-event performances are second to none! We are celebrating the Thermopolis Cowboy Rendezvous PRCA Rodeo's 15th year!

As part of our rodeo weekend celebration, we are hosting a parade and everybody loves a parade! From the Rose Bowl Parade to the Macy's Thanksgiving Day Parade, parade goers from across the nation gather to admire various entries. It is a great way to promote your business, candidacy, cause or event! It is also a means to have a lot of fun!!

The Thermopolis Cowboy Rendezvous parade will take place on Saturday, June 22, 2019 at 10:00 a.m. and will follow the same route we have for the past several years. This year's theme is "Wyoming Needs More Cowboys." The parade will line up at 5th and Shoshoni Streets and travel down 6th Street to the stop light, turn right on Broadway and disperse at the VFW. There are awards presented in the following categories: walking, automobile, float, horse, pet, and music.

You are cordially invited to join us in celebrating our 15th annual Thermopolis Cowboy Rendezvous PRCA Rodeo with a parade. We are enclosing a parade entry form. Please fill it out and return it to us by June 20, 2019 so that we can arrange entry line up to make participation fun and safe for everyone! Entries may be turned in at White Horse Country Store or the Chamber of Commerce or mailed to P. O. Box 206, Thermopolis, Wyoming, 82443. We look forward to seeing you at the parade!