Thermopolis Cowboy Rendezvous Rodeo


The Thermopolis Cowboy Rendezvous PRCA Rodeo Committee would like to thank local historian, Dorothy Milek for research and writing a very detailed history of rodeo in Hot Springs County. This is just a glimpse……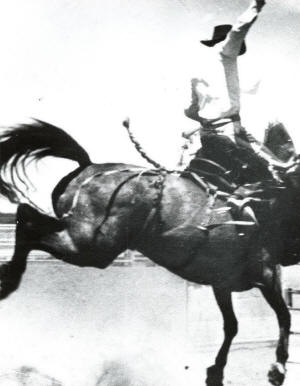 All things 'horse' has always been a part of Hot Springs County culture. Gambling on spontaneous sporting events, including bucking contests, was a favorite pastime at the springs. Thermopolis' first known rodeo was held in 1895. Four men from the Big Horn country decided to visit the hot springs. Their horses were packed with fiddles and a telescope organ. Stopping at a road ranch, they played for a roundup dance and talked the cowpunchers into putting on a riding contest for a few days at the springs. The cowboys showed up driving a bunch of wild horses to buck. Two Texas riders split the purse 50-50 at contest close.

Thirteen years later, grandstand, track and baseball field were built near that same spot, in time for a July 4, 1908 celebration. Purses of $50, $35 and $15 were offered contestants in a bucking contest. Professor Moran furnished stock for the June 6, 1910 rodeo, a celebration the first train engine's arrival in Thermopolis. Keno and Thermopolis were two of the bucking horses. A man named McConagill rode Keno without saddle or bridle. Hot Springs County was "set aside" in 1911. Officials were elected in 1912, and it became an "official county" in 1913. The same year, L.J. Duhig, chairman and H. M. Hantz, secretary of the Thermopolis Park Association, decided to have horse racing in the county as well as a bucking contest. In 1916, land was to have been given to the town to build a new grandstand, race track and ball park. Movie/t.v. star-to-be, Tim McCoy and son of pioneer ranch family, Robert Price, joined ranks to produce a Wild West/Stampede/Roundup to be held on July 4th. The 1919 "Treat Em Rough" stampede featured a bow and arrow buffalo hunt with one hundred Arapahoe Indians invited to take part. Intervention from the state humane officer changed the event to a one shot rifle hunt. Chief Lone Bear declined the honor of shooter due to failing eyesight. The event was covered by the The Denver Post. A special train brought spectators from Fremont County to see this Wild West show.

In August 1921, O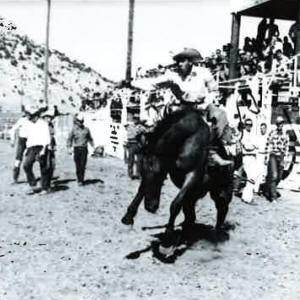 wl Creek residents pushed to produce another rodeo. It was attended by 1,500 people. July 4, 1922 a Wild West Show was to be held at the Watson place west of Thermopolis. Riders included Howard Jones, Chuck Duncan, Kid Stacey, Dub McQueen and Arley Hart. There was also boxing and a barbecue. The first annual "Night Herd" with 38 events was held August 7, 1928. Despite the county evaluation being down by $400,000, the Night Herd was a success. Approximately 250 Indians attended the event. "Gene Tunney" proved to be the bad horse with no one riding him. The three men who attempted to ride this rank horse include Bunny Stall, crack Indian rider from the Dubois country; Ben Roberts, regarded best cowboy of the Sweetwater country and Rosenberry, a Cody Stampede Champion. Other arena event placers include Lorin Nations, Archie Campbell, Jack Shipp, Nick Knight, Ben Roberts, Lloyd Lee, Roland Parker, C. E. Crowley, Russel Wood, Milt Sommerton, Turk Greenough, Bill Sterling and R. H. Twiford. A few days later, snow in the mountains and 34 degree weather brought summer to a quick close.

In 1932, The Pioneer Association made serious plans for a historically accurate Gift of the Waters Pageant. Three Hundred Fifty Arapahoe Indians made a grand entry through town and camped at the fairgrounds. An all Indian show was held at the fairgrounds featuring fancy riding, roping, horse milking and races of all kinds. 1933 brought a closing of the Crosby coal mines. With 357 families on relief, the National Recovery act was endorsed by a group in the packed Courtroom. In spite of public debt increasing to $483,859,000, a rodeo was held at the Fuller place on Copper Mountain. These "Night Herd" rodeos continued through August of 1934.



Fifty-six business men and individuals contributed and formed the Thermopolis Rodeo Association in 1935, under the American Legion with support from city and county officials as well as the fire department. Finding it difficult to get stock for a July 4th rodeo,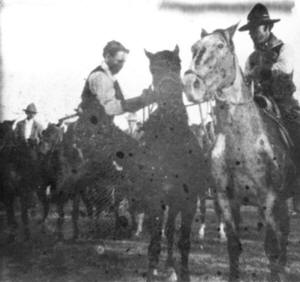 the date was switched to Labor Day. There were many events held including saddle and bare back bronc riding, steer riding, bulldogging, calf roping. Several events were held in the arena at once. The local paper announced, "The jails are ready for the rodeo crowd." The first rodeo queen selection was held in 1936. Mary Jane Carter won the crown. Another successful rodeo was held September 10, 1937, it was announced by Milward Simpson, and the rodeo committee brought Roy Hammon from Salinas California to clown the event. The Thermopolis Rodeo continued to grow thanks to American Legion support. The year 1938 boasted $1,800 in cash prizes and $500 in merchandise, night show/rodeo, pioneer pageant and daily parades, open air dancing and swimming every night. Diamond D. Dewey, rodeo clown, featured "Panther" the world's only trained buffalo. This was a big time event and according to the local newspaper was "the first time Brahma bulls will be used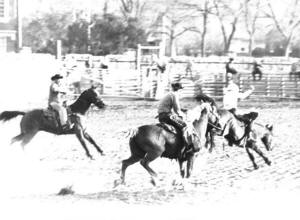 in this section of the country……harin', tearin' bunch of devil meat." Some of the event winners include: Saddle Bronc- Happy Sankey; Bill and Tex Greenough; Bull Dogging- Mickey McCory (time 6.2 seconds) and Bill Greenough; Calf Roping- Van Irvine, Justin McCarthy, Marvin Bell, Vincent & Lourie Hayes and James Wilkerson, roping from an unbridled horse. Bareback bronc riding- Jack David and Forrest Van Tassel and Chet McCarthy won the Brahma Bull riding. Local lad Willard Wilson won the Shetland races. The stone wall surrounding the Hot Springs County Fairgrounds was completed in 1939 in time for the Labor Day "Big Roundup" featuring an Indian Buffalo hunt and Indian Bucking Buffalo Riding. Alice Hayes was the rodeo queen. Col. Tim McCoy was on hand and the Chamber of Commerce took names of people willing to rent rooms to visiting spectators.




Rodeo World magazine (Aug. 1940) rated the Thermopolis Annual Rodeo as one of the best to see this year and referred to it as one of the ten best in the United States and fans were not disappointed. Entry fee for the Brahma riding was $7.50 with a $200 purse. Bareback Bronc Riding featured half the purse ($100) but only cost $5.00 to enter. Rodeo fans came from far and wide to the "finest rodeo grounds in the country." "Hotels, rooming houses, cabin camps, tourist camp grounds…we have them all, to fit every purse. The rodeo in 1941 featured tough competition with the likes of Turk Greenough, Carl Mendes,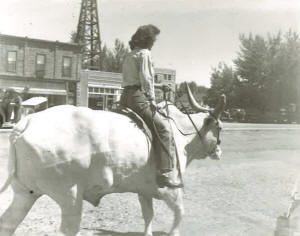 Jesse Like, Bob Murray and King Merritt. On the local level, Jewel Duncan won the pony race as well as the Cowgirl race. In September 1941, who knew the world would change for ever on December 7, 1941. In spite of the war, Thermopolis decided 1942 would be "rodeo as usual." One month prior to performance, barns at the fairground burned, but the show went on and the 1942 rodeo was said to have been one of the best shows held to date. Optimism ran high that the war would be a short one. In spite of high hopes, no rodeos were held in 1943 and 1944. Rodeo resumed in 1945 with Virginia Lee "DeDe" Hayes, daughter of Vincent "Buster" and Alice Rankin Hayes was selected queen. Her family had ranched in Hot Springs County since the late 1890's and her mother had worn the crown in 1939. In 1948, Mrs. Nellie Sliney Rankin, believed to be the oldest resident in Hot Springs County, rode side saddle on a "spirited mount" wearing her riding habit of the early 1900 era. She was joined by Mrs. Lottie Hayes. The parade was nearly three miles long. Eight year old Sandra Minard "almost stole the show" with her fancy trick riding. "Scrap Iron" Jimmy Patch of Miles City, Montana was the rodeo clown. Event winners include Bill Linderman, J. D. McKenna, Buster & Lourie Hayes, Dick Skeen, Hyde Merritt and Mickey McCory. Buffalo riding was featured with Louis Teton riding his mount using only a surcingle. An estimated 1,200 Indians camped east of the railroad tracks.


Thermopolis Rodeo popularity continued in the 1950's with the annual rodeo drawing top-ranking contestants. Locals recall National Guardsmen standing on the stone wall to prevent spectators from sneaking in. Casey Tibbs had a matched bronc riding contest with another top cowboy held here in Thermopolis. People still recall the lavender Cadillac parked behind the bucking chutes. Connie Hayes followed in her sisters royal footsteps and was selected queen in 1950. Her cousin Laurie Ann was queen in 1953. She was the daughter of Lourie and Flossie Hayes. Pat (McKone) Spratt, daughter of Bob and Pauline McKone, was rodeo queen in 1959. Her family was very involved in the Thermopolis Rodeo, with her father being chairman and competitor for many years. Pat's sister, Bonnie McKone, was queen in 1961. Bonnie went on to be selected as Miss Rodeo Wyoming and ended up in the top ten in the Miss Rodeo America Contest in 1964.

The Thermopolis Rodeo continued through the 1970's and in the 1980's focus changed from PRCA to high school and youth rodeos. In 2004, a group of PRCA rodeo fans, business people and community members pulled together to restore PRCA rodeo to Hot Springs County. It continues to grow. "Nearly every community in Wyoming has a rodeo during the year," says former Governor Dave Freudenthal, who grew up on a farm in Thermopolis "Rodeo's the one thing we have in common. It's part of a broader definition of who we, in Wyoming, are."